Invitation for the Third Edition of the Summer University of Saint Malo (France), 25th-28th of August, 2016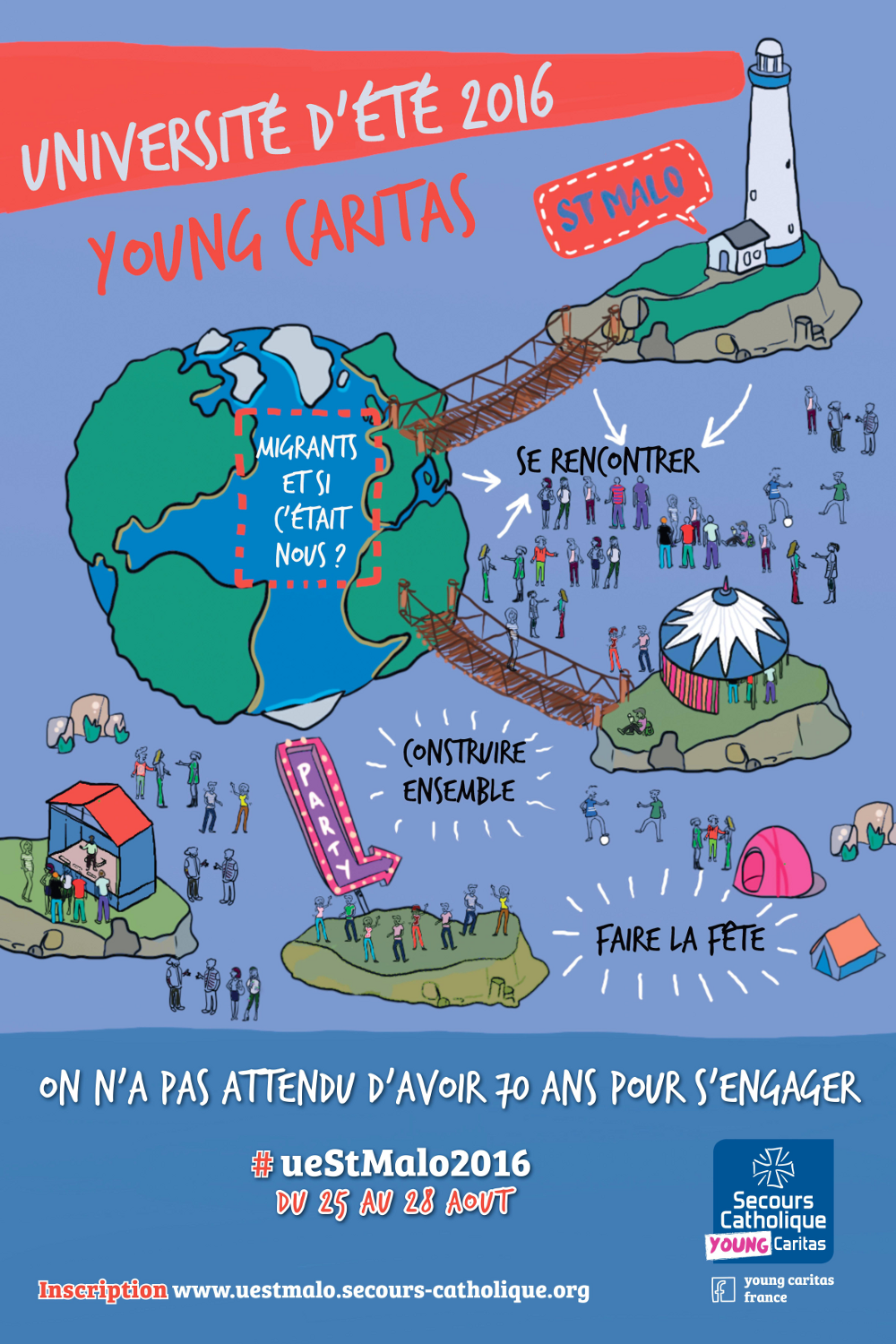 You can find all important information here.
The youngsters' engagement with people living in precarious situation is a key priority! In August 2016, for the third consecutive year, we invite Young Caritas groups members to participate to a great gathering on solidarity!
This meeting is a special occasion for Youngsters to share their own experiences of engagement in a fraternal and convivial atmosphere (civil volunteers, professionals, people in need, friends or people coming from partner organizations).
This edition is based on the theme "Migrants, and if it was you?". The goal is to reinforce this state of mind of opening and sharing together. It is also a strong way to reinforce the dynamics of the international Young Caritas network.
This year's program:
• Series of workshops and debates. This year, the main theme focuses on migration topics
• Festive and recreational activities including discovery tour in the Saint Malo area
• An immersion in a French delegations of Caritas France before the Summer University (from 20th of August to 24th of August)
Youngsters from all networks are welcome!
Because we believe in the synergies created during these international meetings, we invite the young Caritas members (18-35 years old) to participate to this third Edition of the Summer University of Saint Malo. We're calling for young members coming from Caritas or from partner organization to join us!
The program:
– Thursday 14'o clock:
Welcoming and introduction
Official greeting:
intercultural evening; dancing and singing from the YoungCaritas teams of France and other countries, concert, karaoke
– Friday:
Workshops, Presentations und pädagogische Spiele zur Thematik
Sportliche Aktivitäten und kulturelle Exkursionen
Solidaritätsmarsch durch die Baie du Mont Saint Michel
– Saturday:
Forenoon: Workshops, Vorträge und games to the theme
Afternoon; open forum: Which role is youth playing in the solidarity theme (with refugees)?
United Caritas FM (interkult. Mix) evening
– Sunday:
Final ceremony (End 12'o clock)
Bonusprogram: music, exhibition Migr'europ, tent of sharing, tent of silence, excursions, sports,…
How does it benefit young people?
• To create a Young Caritas dynamic beyond borders
• To discover and to enrich ourselves with our different actions and practices in the solidarity topics
• To brainstorm and exchange views on migration topics.
Some testimonies from Youngsters:
According to the Young partners, the last Summer University was a concrete occasion of sharing a solidarity experience in France: "Some days after my return to Mongolia, I was walking in the streets of the city when I met some street children. They were asking for money and I was ready to go past them, indifferently. Then the theme of the Summer University of Saint Malo about "living together" came to my mind. I felt the same feeling I had when we were met them in the streets of Paris with Young Caritas Essonne (France) and Young Caritas Luxembourg. It's the feeling that we don't need a lot to create a contact with someone in the street, a smile, some words and it's done! So I decided to stop and to take time to discover these children".
– Azaa, young voluntary of Caritas Mongolia
For the Youngsters from Caritas France, it's a way to reinforce or to impulse some new dynamics. The French Young Caritas who welcomed foreign young Caritas are still regularly in touch ! "It was amazing: the workshops, the meetings as well as the exchanges with Young Caritas coming from all over the word! I really enjoyed these days. Some connections between different Caritas youngsters have been made and should result in beautiful common projects".
– Louisa, member of a Young Caritas staff
Practical issues:
When?
From Thursday, 25th to Sunday 28th of August, with a possible immersion starting on Saturday 20th of August Where? Saint Malo, in French Britany
Costs: The costs will be covered by Erasmus+. You will get more information by applying.
Accompaniment: A team dedicated to welcoming and translation will be at your side during the full length of your stay in Saint-Malo and at the Summer University.
How do you get there?
There are driving busses:
Nice :
Duration of the journey : 15h
Probable departure : wednesday at 10 PM
Lyon :
Duration of the journey : 9h
Probable departure : thursday at 4 AM
Strasbourg :
Duration of the journey : 12h
Probable departure : thursday at 1 AM
Mulhouse :
Duration of the journey :9h30
Probable departure: thursday at 4.30 AM
Metz :
Duration of the journey : 7h
Probable departure: thursday at 6 AM
Nancy :
Duration of the journey : 8h
Probable departure : thursday at 5 AM
Paris :
Duration of the journey: 6h
Probable departure : thursday at 7AM
Are you interested in this project?
Get in contact with your Young Caritas and get one of the ten limited places for your country!
We are looking forward to see you in Saint Malo!
For insights from last year you can watch this aftermovie: